Our sinantolan in a bottle, Longer shelf life (1 year unopen, 3 months opened refrigerated). Ideal for pasalubong and resellers
Our sinantolan has a modern taste that our customers love it. It tastes sweet, spicy, and a little bit of sourness. The tenderness of our santol meat and the sweetness of coconut oil extracted from coconut milk makes you want to eat more rice.
A very delicious side dish for fried and grilled main dishes or enjoyed on its own with freshly cooked rice.
Please message us for orders.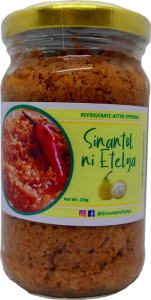 Become our Reseller/Distributor Partner!
Product
We offer a competitive package so you can start right away and earn more.
For interested resellers, please get in touch with us to learn more.